These are the draft Soccer rules for RoboCupJunior 2024. They are released by the RoboCupJunior Soccer League Committee. The English version of these rules has priority over any translations.
Teams are advised to check the RoboCupJunior Soccer site https://junior.robocup.org/ and Soccer forum https://junior.forum.robocup.org/c/robocupjunior-soccer/5 for procedures and requirements for the international competition and with local tournament organizers for local, regional and super-regional competitions. Each team is responsible for verifying the latest version of the rules prior to competition. Teams should ask for clarifications on the Forum where necessary. [1]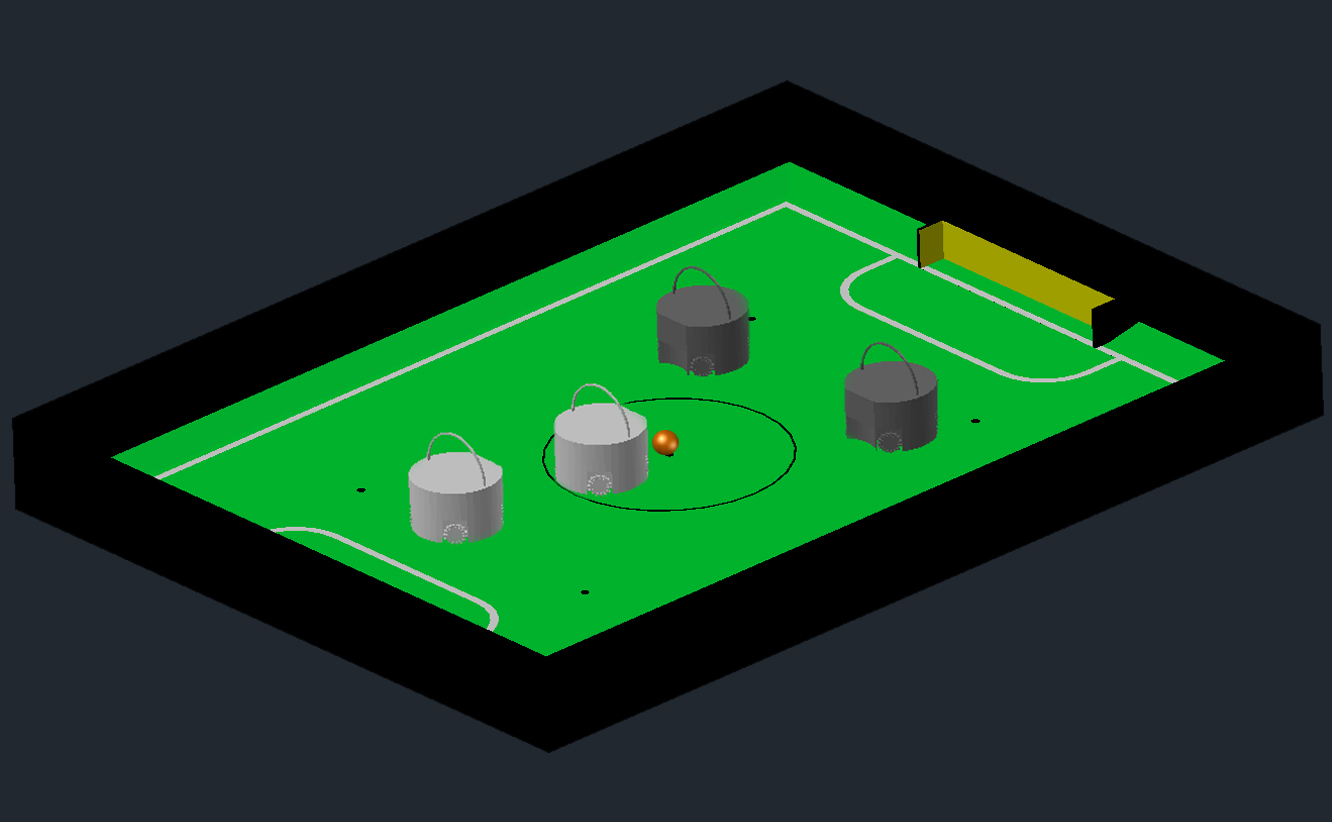 Figure 1. Two teams of two robots with an orange ball on a RoboCupJunior Soccer field.
Preface
In the RoboCupJunior Soccer challenge, teams of young engineers design, build, and program two fully autonomous mobile robots to compete against another team in matches. The robots must detect a ball and score into a color-coded goal on a special field that resembles a human soccer field.
To be successful, participants must demonstrate skill in programming, robotics, electronics and mechatronics. Teams are also expected to contribute to the advancement of the community as a whole by sharing their discoveries with other participants and by engaging in good sportsmanship, regardless of culture, age or result in the competition. All are expected to compete, learn, have fun, and grow.
RoboCupJunior Soccer consist of two sub-leagues: Soccer Open and Soccer Lightweight. These rules apply for both sub-leagues. There are two main differences between the two leagues.
Soccer Lightweight is played using a special ball that emits an IR signal. Robots may weigh up to 1.4 [2] kg, may have a ball-capturing zone of up to 3.0 cm [3].

Soccer Open is played using a passive, brightly colored orange ball. Robots may weigh up to 2.2 kg, may have a ball-capturing zone of up to 1.5 cm [4].
If you would like to start with RoboCupJunior Soccer, please contact the organizer of your regional RoboCupJunior competition and ask them about Rule 9.5, "Entry League".
Unless specified otherwise, all parts of these rules are released under the terms of the Creative Commons Attribution-ShareAlike License.
Changes from the 2023 RoboCupJunior Soccer Rules
The rule changes developed by the Soccer League Committee in cooperation with the RoboCup Junior Soccer Community (please continue to post ideas for the future on the forum any time) aim to improve gameplay.
Detailed changes are listed below and link to the corresponding place in the rule.
Construction and Programming have to be performed exclusively by the students
Robots must be constructed and programmed exclusively by student members of the team. Mentors, teachers, parents or companies should not be involved in the design, construction, assembly, programming or debugging of robots. To avoid possible disqualification, it is extremely important that teams abide by Rule 8, "LEAGUE REGULATIONS", especially Rule 8.2.4, "Construction" and Rule 8.2.5, "Programming", and all other competitor's rules.
If in doubt, please consult with your Regional Representative before registering your team.
A team must have more than one member to form a RoboCupJunior team to participate in the international competition. Team member(s) and/or robot(s) cannot be shared between teams.
Each team member needs to carry a technical role.
Each team must have a captain. The captain is the person responsible for communication with referees. The team can replace its captain with another team member during the competition. Each team is allowed to have at most two members beside the field during gameplay: they will usually be the captain and an assistant team member.
Teams that do not abide by the rules are not allowed to participate.
Robots are expected to be capable of dealing with any colors above the walls (e.g. blue, yellow, green or orange shirts) either in hardware (e.g. limiting the field of view from looking up) or in software (e.g. masking the input image).
The referee can interrupt a game in progress if any kind of interference from spectators is suspected (IR emitters, camera flashes, mobile phones, radios, computers, etc.).
This needs to be confirmed by the tournament organizers if a claim is placed by the other team. A team claiming that their robot is affected by colors has to show the proof/evidence of the interference.
Balls for the tournament must be made available by the tournament organizers. Tournament organizers are not responsible for providing balls for practice.
According to rule 3.8 of the RoboCupJunior Soccer Rules, each league has its own additional regulations. They become a part of the rules.
For RoboCupJunior , there are two sub-leagues as follows [10]:
Soccer Lightweight

Soccer Open
Answering to the request for a soccer ball for RCJ tournaments that would be more robust to interfering lights, less energy consuming and mechanically more resistant, the Soccer League Committee defined the following technical specifications with the special collaboration from EK Japan and HiTechnic.
Producers of these balls must apply for a certification process upon which they can exhibit the RCJ-compliant label and their balls used in RCJ tournaments.
Balls with these specifications can be detected using specific sensors but also common IR remote control receivers (TSOP1140, TSOP31140, GP1UX511QS, etc. - on-off detection with a possible gross indication of distance).
Currently, there is one ball that has been approved by the Soccer League Committee:
Note that this ball was previously called RCJ-05. While you may not be able to find a ball with this name anymore, any IR ball produced by EK Japan/Elekit is considered to be approved by the Soccer League Committee.
In order to push the state of the art in the Soccer competition forward, while also trying to bridge the gap between the Junior and Major leagues, the Soccer League Committee chose a standard orange golf ball as the "passive" ball. This is the same choice as the Small Size League makes [20] and since these balls are standardized, they should be cheap and easy to get anywhere around the globe.
All robot kickers will be tested with the tournament ball used in the sub-league they participate in. Kicker Power will be measured by means of an on-field test [21].
The test is performed as follows:
Place robot inside the left corner of a goal.

Perform a kick into the opposing goal

The Open League kicker power test is passed if after bouncing off of the opposite goal the ball does not return further than the front line of to the penalty area it was shot from.